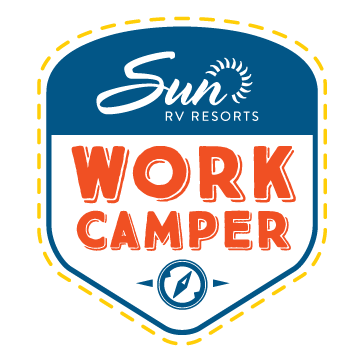 What could be better than earning a living while traveling the US in your RV? Sun RV Resort's Work Camper program enables you to do just that! Combine taking part in the exciting lifestyle of RV camping with working part time as a member of our team. As an added benefit to all of the great perks associated with joining our team, working as a Work Camper earns you additional rebates, which are applied to your site ledger each month, for all hours worked.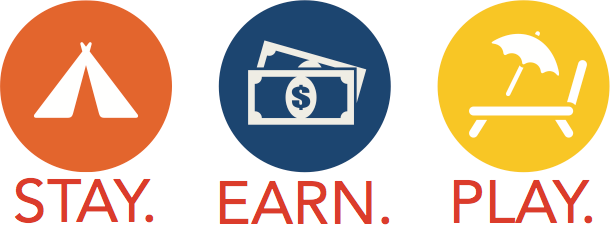 Work Camping with Sun
Opportunities are available at our Northern resorts during summer months and at our Southern resorts in the fall and winter. No matter what atmosphere you like, or where you want to travel, we'll have a resort you're sure to enjoy.
As a Work Camper you will:
Receive a welcome kit with detailed information about being a Sun RV Resorts Work Camper

Earn wages for the work you perform

Earn rebates that are applied towards your site rent

Earn free rent for referring other Work Campers who get hired

Take part in exciting activities and events

Help our team offer an outstanding array of amenities, wonderful planned events, spacious social facilities and dedicated on-site customer service focused on maximizing the enjoyment our guests' visits
Becoming A Work Camper
To express interest in Sun's Work Camping program apply online and one of our team members will be in contact with you to discuss next steps.
Staying With Us
To make a reservation, view our list of resorts at sunrvresorts.com, learn about all the amenities they offer, check availability, and reserve online.
Have you already been hired as a Work Camper and want to refer a friend to join the Work Camper program?
Existing Work Campers can refer others to join Sun's Work Camper program.
Submit your referral's contact information below

Our HR team will contact your referral, explain how the program works, and assist them with applying to one of our open Work Camper positions

If your referral gets hired and remains employed with Sun for a minimum of 90 days, you'll earn a certificate for either:
1 free week of site rent at your work location*
-or-
2 free weeks of site rent at a different Sun RV Resort*
*Subject to availability